I first met today's featured blog guest, Sai Chandrasekharan, at my local Apple Store (located in Metairie, a suburb of New Orleans). I've been taking advantage of One-on-One Personal Training Sessions available through Apple Stores, and Sai was my instructor that day. At the end of the top-notch session, we traded business cards and Sai mentioned he was a photographer. A few days later, I checked out his Flickr site, and discovered amazing photos he has taken of the Mississippi River bridge in New Orleans. With his kind permission, here is a peek at just a few of my favorites with the bridge against the backdrop of nature during sunrise, thunderstorm and moonrise.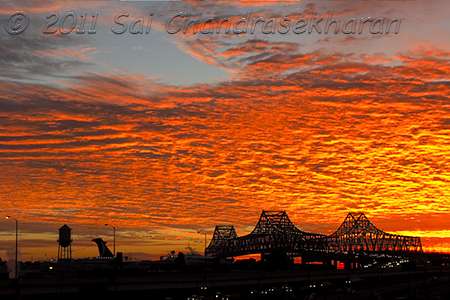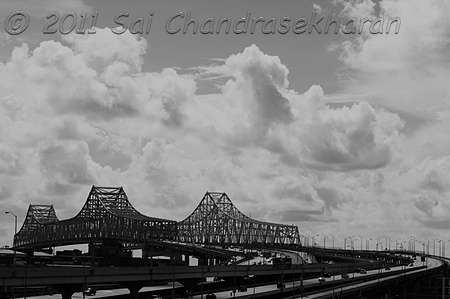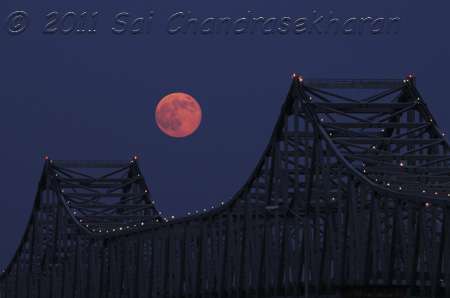 I hope these will peak your interest in seeing the full-size photos of these and many others he has done. You can view Sai's entire gallery at www.flickr.com/chandsa. I think you will enjoy his commentary there, too.
As background, the Crescent City Connection, (formerly called Greater New Orleans Bridge before its upgrade from one span to two spans) refers to twin cantilever bridges farthest downstream on the Mississippi River. These twin bridges run between the Central Business District of New Orleans and the Westbank (named for its location on the western bank of the river, even though geographically it actually is southeast of New Orleans!). Due to the Mississippi River's winding course through the New Orleans area (the river is flowing north at the place where the two bridges cross), the eastbound span actually carries traffic on Business US 90 West, while the westbound span carries traffic East. Not only that, but the river is actually flowing north where the bridges cross.
p.s. Now you know why true New Orleanians do not refer to east, west, north, south. It is always just toward the river, away from the river, etc. lol.