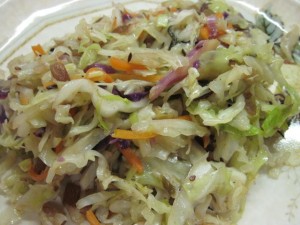 Although I am a Southern gal now, I was born outside of the South. That's my excuse for deviating a bit from the Southern tradition of starting off the new year with collard greens and black eye peas.
The idea is that green brings prosperity (i.e. the green of money) and the black eye peas bring luck (as I understand it, your goal is to eat at least 365 peas so that you have luck on each day of the coming year).
I've recently become very interested in Indian cooking, so I decided instead to pick recipes from Madhur Jaffrey's Quick & Easy Indian Cooking. My 'greens' selection was "Stir-Fried Green Cabbage with Fennel Seeds" based on page 94 in the book.
I love the balance of seasonings in Jaffrey's recipes, so I seldom alter her recipes for these. This one has fennel seeds, cumin seeds, sesame seeds, salt, cayenne pepper, lemon juice and garam marsala.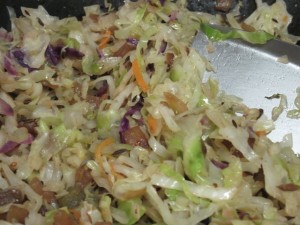 I did do some minor altering of the vegetables for this recipe, though. Instead of a half head of cabbage shredded, I used precut slaw from Sam's. I also already had some Creole mix on hand that was in need of being used before it got too old, so I used that mixture of diced vegetables instead of cutting an onion into fine half rings. (Note: Creole mix is predominantly diced onions with some celery, bell papper, green onion, parsley and garlic thrown in. It's commonly available here in the New Orleans area where Cajun and Creole cooking is popular.)
Actually, I think the addition of the carrots (per the slaw mix) and the bits of other vegetables in the Creole mix adds a little needed color to this dish (compared to the one in the book), and to my taste, the flavors are in keeping with the overall dish.
The recipe called for so much cabbage (1.5 pounds) that I initially had to put only some of the cabbage in the wok and let that wilt down a bit before putting in more.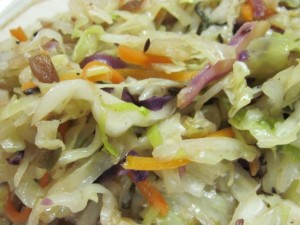 The close-up view is a helping of the cabbage dished out on my plate. Really yummy and it didn't last long after this picture was taken, lol.
I'll be back tomorrow with photos of preparing "Whole Green Lentils with Cilantro and Mint" for the 'luck' side of my new year's meal. See you then!