Gluten-free and dairy-free. Healthy. Tasty. Whether you enjoy this quinoa pudding as dessert or for a nutritious breakfast, what's not to love?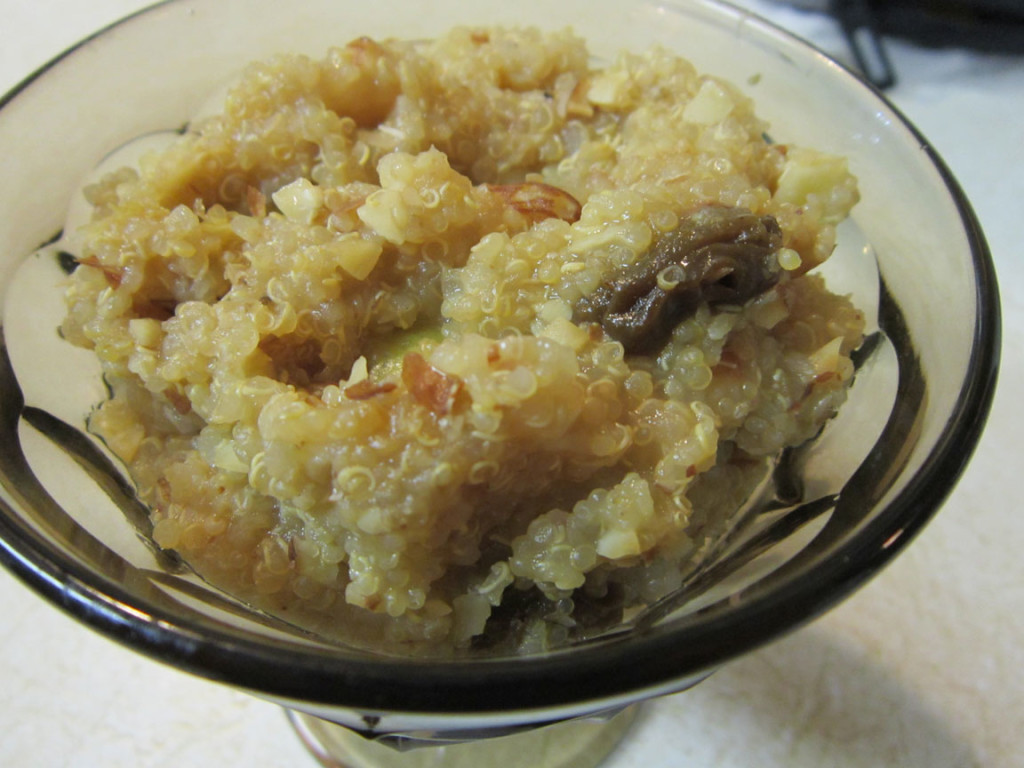 Cooking time: 35 minutes + 10 minutes rest time during which most of prep of other ingredients can be done
Yield: 6 servings. Calories per serving: 229.
Ingredients
1 cup pre-washed white quinoa seed
2 cups filtered water
1¼ cup unsweetened apple juice
½ cup jumbo golden raisins
½ cup raw whole almonds
1 tbsp maple syrup
1 2-inch cinnamon stick
1½ tsp vanilla extract
juice of half a lemon
grated rind of one lemon
Directions
Add Quinoa to water in medium saucepan. Bring to boil, then simmer until  water nearly absorbed (18 – 20 minutes). Set aside covered for about 10 minutes.
Toast almonds lightly in small pan to maximize flavor. Cool completely. Chop in mini food processor to medium-fine.
Combine chopped almonds and remaining ingredients with the cooked quinoa.
Cover and bring to boil. Reduce heat and simmer gently for about 15 minutes.
Remove cinnamon stick. Scoop mixture into 6 individual dessert bowls.
Cover and chill for 1 hour or more. Serve cold.
Serving Suggestions
Garnish with fresh pomegranate arils (seeds) for a festive holiday look.
Pour some almond milk (or other non-fat dairy free milk) over the top and stir for a creamier pudding consistency
Nutrition Facts for Quinoa Pudding