It's been a while since I've revisited the cooking section here. On this "leisure Sunday", I thought I'd introduce a couple more savory vegetarian dishes I've made recently that I really liked, and re-share others that I think are outstanding. In fact, if you advocate Meatless Monday, this might be just in time for you to plan for a different kind of dish tomorrow.
It's not that I have anything against meat … I just have found that I haven't had the desire to eat meat as often, or in as large quantities, as before. During the summer, I love salads and there are all kinds of great ways to make them interesting and never boring. But during the colder weather, I'm more inclined to hot cooked vegetable dishes.
If you've been following my previous posts, you know that I have been going through recipes in Madhur Jaffrey's Quick & Easy Indian Cooking. There are recipes for meat dishes in this cookbook, but what is especially appealing for me are all the fantastic ways of making flavorful vegetable dishes without the addition of a zillion calories or cholesterol. (Yes, I admit that before this discovery of such tasteful Indian-spiced vegetable recipes, I would just add butter, cheese and … well you get the idea.)
Here's a quick run-down of my favorite vegetable dishes from this cookbook so far: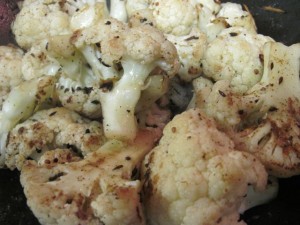 Cauliflower with Ginger, Garlic, and Green Chiles. We've made this twice already, so you know it's got to be good. I don't even miss the cheese sauce! Instead, I used (as pretty much called for in the recipe)
a bit of vegetable oil for releasing the spice fragrances and browning (I used peanut oil)
cumin seeds
yellow mustard seeds
garlic, peeled and chopped
fresh ginger, peeled and shredded
fresh cauliflower broken apart into florets
green hot chiles, sliced including seeds
a bit of salt and freshly ground black pepper
garam marsala (this is a common Indian spice which is actually a combination of fragrant spices; this Wikipedia article will help you substitute if you don't have a source; I'm still using some from Williams & Sonoma because I had it on hand, but will be mixing my own in the future)
a touch of cayenne pepper (you can adjust this to your liking, but I tend to go heavy on cayenne because my adopted New Orleans taste likes it hot!)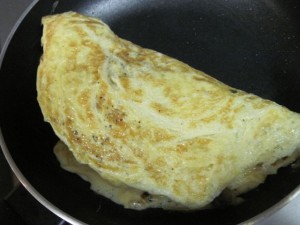 Garlicky Mushroom Masala Omelet. This is not strictly vegetarian because of the eggs. But I wanted to include it because I think you would enjoy it if you allow eggs in your diet. I am not sure why this recipe is titled "garlicky". I do not consider it to have a lot of garlic in it, but then again I am used to our New Orleans cooking where we are known to often use tons of garlic. This is probably the prettiest omelet that I have made that actually held together, lol. I used
eggs (of course)
a bit of salt and freshly ground black pepper
a bit of vegetable oil for releasing the spice fragrances and sautéing (I used peanut oil)
black mustard seeds (you could use yellow)
garlic, peeled and chopped finely
fresh mushrooms, sliced
sliced scallions (green onions)
green hot chile, sliced including seeds
cilantro
grated fresh ginger
chopped fresh Roma tomatoes
Also, here are other vegetarian dishes from last month if you didn't catch them at that time, or just want to review:
Whole Green Lentils with Cilantro and Mint
Stir-Fried Green Cabbage with Fennel Seeds
Hope this has helped give you some more ideas to spice up your menu. I'd love to hear how you bring variety to your vegetable dishes, too.