Continuing on from yesterday's post with 'luck' and 'money' dishes to start off the new year, here was the 'luck' entry in my new year's menu. It is "Whole Green Lentils with Cilantro and Mint" on page 86 of Madhur Jaffrey's Quick & Easy Indian Cooking.
I love lentils anyway, but had never made the complex mixture of flavorings that are in this recipe. In particular, I had never used mint quite in this way, which is what intrigued me about the recipe.
Here are the prepared and measured ingredients ready to be assembled (just like the cooks do on tv, lol). I've found it particularly important to do this preparation beforehand, since the assembly steps go really fast once the fire is turned on. There wouldn't be time to stop and measure for the next step of ingredients for fear of the spices burning, or mustard seeds popping out of the pan all of the place, or whatever.
The first photo shows where I have the ingredients lined up in the order they will be assembled. The pot already has the oil. Next up is the cumin seeds and black mustard seed. Then dried hot red chiles (I used Thai peppers from my garden) and ground asafetida. Next up is chopped garlic, onion, and tomato (from the end-of-season crop of a friend's garden; the tomatoes in my garden had long ago played out). Then the dried lentils, water, salt, ground coriander, chopped cilantro and chopped mint (the mint is from my garden).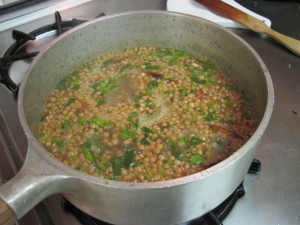 The next photo shows the ingredients after they have been step-wise assembled in Indian cooking fashion, and the mixture is being brought to a boil before covering and simmering until the lentils are tender.
Here you see the finished lentils dished out in a bowl with a bit of cilantro as garnish (just to make a pretty photo, lol). The end result for this dish does not scream out at any one ingredient, which is what I particularly like about Jaffrey's recipes. This is just luscious if you are looking for a high-protein vegetarian dish. It's so easy to eat, that undoubtedly I am well passed eating my share of lentils to ensure good luck for all 365 days this year (at least I hope so!).