I misspoke yesterday when I said I was going to make a dish with "fresh mushrooms, curry and other Indian spices". It just dawned on me that I never got out the curry powder when I was making this last night. I re-checked the receipe ("Mushroom Curry" on page 84 of Madhur Jaffrey's Quick & Easy Indian Cooking) and sure enough, there is no ingredient called for by the name of "curry".
Ah! Ah! I searched around and found this on Wikipedia:
"Curry … is a generic description used throughout Western culture to describe a variety of spiced dishes, especially from Indian or other South Asian cuisines."
So if you have thought like I did, that curry meant something hot and spicy, that is not necessarily the case. It is similar to the term 'stew' in that there does not have to be any particular ingredient, or even one that is named curry!
After I've been going on and on about this Mushroom Curry dish, you probably are wondering what I am talking about.
Here is a photo where I am stir-frying the paste of fresh ginger, onion and garlic. I couldn't continue taking pictures during this stage because I had to be diligent in moving the mixture around until it reached the stage of golden brown. This reminds me of the process of making a rue that is fundamental to so many of the cajun and creole dishes here in southern Louisiana.
Then other ingredients are added: some plain yogurt, a bit of tomato paste, ground coriander, salt, a touch of cayenne pepper, water and mushrooms that had previously been lightly stir-fried. Simmer covered for a few minutes, then garnish with a sprinkling of fresh chopped cilantro.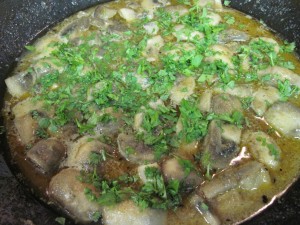 I served it on the plate over some Basmati rice.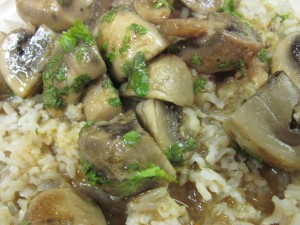 Delicious, imho. Wish you could have been here to enjoy it with me.