In keeping with Meatless Monday, here is a light, flavorful salad I concocted. Undoubtedly there are similar recipes out there, but I didn't look and just went with what seemed right for a healthy salad with a fruity, balanced taste.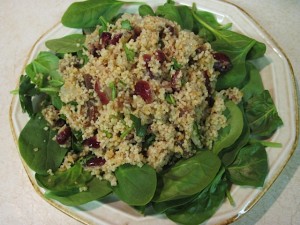 Cranberry and Apricot Couscous Spinach Salad
6 – 8 servings
1 –  10 oz / 284 g package Hodgson Mill Whole Wheat couscous, or other regular brand of your choosing
1 – 14.5 oz / 41 g can Swanson vegetable broth (or 2 cups of your own homemade vegetable stock)
¾ cup dried cranberries
¾ cup chopped fresh onion
1 tablespoon olive oil
10 dried apricots, chopped
½ cup chopped fresh cilantro leaves
salt and pepper to taste
fresh spinach leaves
Empty the package of couscous into a bowl for which you have a cover or can be covered with a plate.
Measure the vegetable broth and add water to bring it to the 2 cup level. In a sauce pan, bring this to just boiling. Add dried cranberries, turn off heat and cover for about 2 minutes to steep and plump the cranberries.
Add the broth/cranberries to couscous and cover the bowl.
Meantime, put the oil in a small frying pan. Add onions and lightly sauté until the onions just start to become translucent.
Uncover the couscous, add onions and apricots. Fluff lightly with fork. Let cool slightly. Add cilantro, salt and pepper. Mix lightly with fork.
Serve over fresh spinach leaves.
Variation/substitutions:
Use parsley instead of cilantro
Use either light or dark raisins instead of dried cranberries
Substitute another favorite dried fruit for the apricots, or even coarsely chopped nuts
Substitute romaine, iceberg, or other variety of lettuce for the spinach
Enjoy!