Please join me at the new HeartStrings FiberArts business page on Facebook. To celebrate, I am having a drawing for a Sock Therapy Kit. This kit includes yummy Merino blend yarn, "chocolate" ribbon and pattern to make socks as shown. Enter now. Comments close next Saturday, January 15 at midnight CST and I will announce the winner the next day.
You can click the picture below to preview the cover page of the pattern that is included in the kit. If you win the kit (and I hope you do!), you will get the complete printed pattern along with yarn and ribbon to make the socks.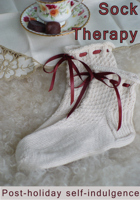 This kit is the last of it's kind; I will not be making up any more, so it's quite special. I figured a contest was the best way to give it to someone special, because otherwise I would have an impossible time choosing from all of my wonderful friends and fans.
So com'on over now to HeartStrings FiberArts on Facebook and "Like" to become a friend/fan. Then comment under the post for "Sock Therapy Kit Drawing" letting me know you want to enter the drawing.
I'm cookin' up more ideas for contests, giveaway's and other fun stuff. So I hope to see you soon over at Facebook where you can keep up with what's going on at my business.