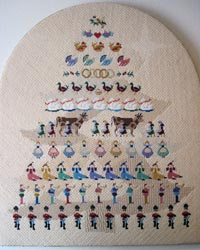 This needlepoint piece that I made in the late 80's/early 90's has always been a favorite of mine, but I had not had it on display for the last few years since I had not in the mood for decorating for Christmas. I got it out this year and it's been like rediscovering something new all over again while recollecting the fun I had in stitching it.
Some of you might recognize the design as being based on the counted cross-stitch design published in the Cricket booklet "Christmas in July". I had purchased the booklet from Westie's, a needlecraft shop long since closed in the New Orleans area. The design had been planned for stitching on 14-count white Aida cloth (and thus, no background stitching would have been needed). But I decided instead to transform the piece into needlepoint with a suggestion of monochromatic evergreen boughs in the background and the guiding star of Christ's birth in the upper right (those areas are worked in various types of stitches so as to differentiate not only through subtle difference in white-on-white color but also in texture).
Almost all of the stitching was done with needlepoint wools I had on hand  (mostly because so much of it had been gifted to me by a friend). I used either tapestry wool or stranded Persian wool as necessary to achieve the color and effect I wanted. The only thing I needed to purchase was the gold thread that highlights the 5 gold rings, the piper's instruments and the drummer's regalia.
By the way, I used to do a lot of cross-stitch, too. In fact, I made up the "Little French Geese" piece in this same booklet for one of my sister's that year. Ahh … memories, memories …