A collection of 9 jewel tone dyed colors of Colinton's distinctively silky Australian mohair yarn launched in June 2012, bringing the Colinton Color Finesse collection to 18 colors + natural pearl white.
Not to be outdone by their first Color Finesse sample card (left) for the collection of classic hand-dyed colors launched in January 2012, owner Brandyn designed fans of colors for the sample card of their newest collection (right). Isn't it pretty? I love the artistic thought behind the laying out of the card (and appreciate the work involved in making up beautiful sample cards like this!) — it is another keeper.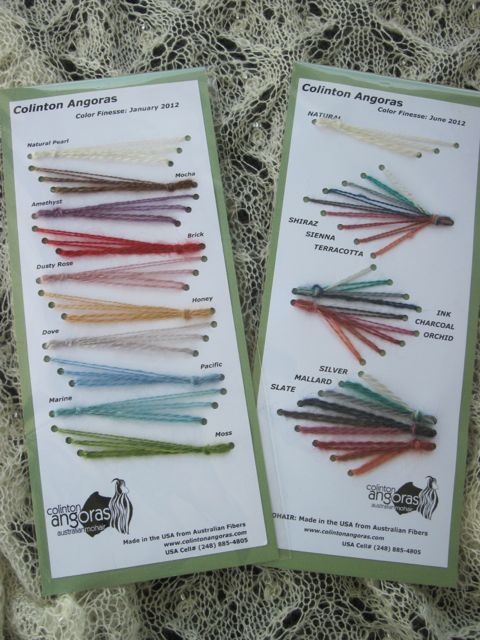 All 19 colors are available in all 3 yarn weights. Wholesale inquiries to Colinton Angoras. Stockists of Colinton yarns and kits.
So what's your favorite color???
COLOR FINESSE CLASSIC (to left). The original 9 classic colors plus Natural Pearl released at January 2012 TNNA.
Natural Pearl
Mocha
Amethyst
Brick
Dusty Rose
Honey
Dove
Pacific
Marine
Moss
COLOR FINESSE AUTUMN (to right). 9 new jewel tone colors released at June 2012 TNNA.
Shiraz
Sienna
Terracotta
Ink
Charcoal
Orchid
Silver
Mallard
Slate
HeartStrings patterns for Colinton yarns (also available as kits through Colinton).
White Lotus Lace Stole (shown in the background of the photo above with the sample cards; this stole would be lovely in Dusty Rose or Orchid and carry along the theme of lotus flowers)
A Touch of Beaded Class (I'd love to make this in the Silver color; I think it would be really rich looking and go with everything!)
Coronet Collaret (any color to go with a favorite top in your wardrobe that you want to dress up with a bit of lace — can go either way for casual to dressy)